Hosting a virtual event or conference is an opportunity to remain connected to your clients and keep them engaged by providing them a valuable and impactful experience. The logistics of a virtual event can differ greatly from an in-person event and it is important to focus on how you can create the best experience for your viewership in an online environment while achieving your objectives for your upcoming affair.
Considerations for a Professional & Engaging Virtual Production for Your Company
A successful virtual production for your next professional event or conference should focus on keeping your audience engaged and connected throughout the entire experience. One Floor Up show producers will suggest interactivity such as polls, voting, social media interaction, and even cameo's from famous people!
Location of Virtual Live Stream
An often overlooked aspect of virtual events is the location where your live stream will take place. Lighting, background, acoustics can be problematic when trying to host a virtual event from your office. A studio setup for your needs and objectives can allow your business to stream a professional and appealing production to your audience. One Floor Up has a studio that can be customized for any event and is wired for high-speed connectivity.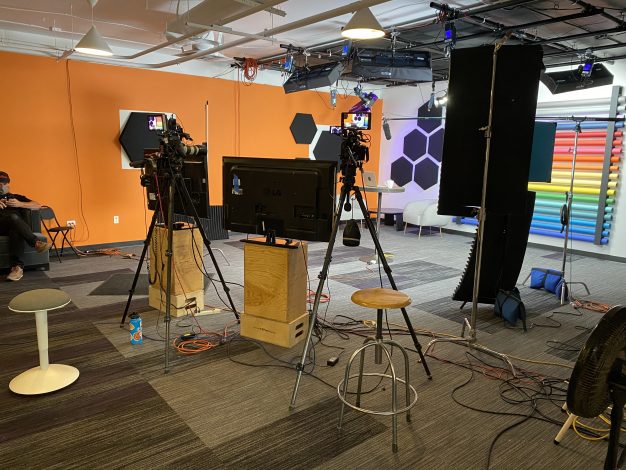 Choosing the Right Platform
With so many options for hosting live stream productions, it is important to consider what platform will work best for your team and your audience. One Floor Up can help you determine where and how to stream your event. Our technical producers will handle the setup live switch and stream.
Technical Knowledge
Technical difficulties can wreak havoc and ruin a virtual event in a matter of moments. It is vital that you have a technical team in place with the knowledge and capability to quickly respond and resolve any technical hiccups or connection issues that may occur on the day of your virtual event.
Let One Floor Up Help Your Team Create a Memorable Virtual Experience
Your company has a message and goal it would like to achieve through its next virtual event or conference. Our team at One Floor Up can work alongside you through each step of the virtual event production process to make sure you successfully deliver your message to your audience in an effective and engaging manner.
Contact us today for a quote on your upcoming virtual event or conference.