(Written by Adrian Engelhardt)
In 2015 as a newbie to Colorado, One Floor Up welcomed me with open arms and taught me much about Denver, motion graphics and a great deal about life. 3 years have passed and I have decided to step away from the office into a freelance role. On my last day with the team, I think back on how this company has influenced me for the better and how these fine people have shaped my life and helped me in the hardest of times. I've learned more from OFU than I can share here, but I would love to introduce you to the projects that impacted me the most and helped me to progress as a designer and as a human being.
My first project with One Floor Up was a fun challenge in motion tracking, for a client called Full Contact. Although this was not a huge client, or even a very difficult project, it was still a big deal for me to establish myself as a designer in the eyes of strangers. I guess I did ok since I've been designing here for 3 years and those strangers have become real, solid homies. I love that I have gotten to work on fun and creatively stimulating projects at One Floor Up.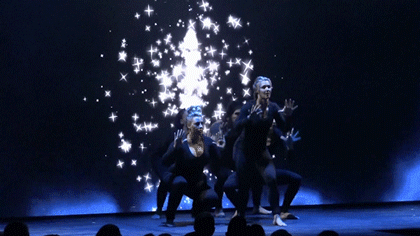 One project that I had a lot of fun with was for Telluride Aids Benefit fashion show 2018. We were tasked with creating visually impressive backdrops for the models walking the runway at the annual fashion show, as well as interactive videos that were coordinated purposefully with the choreography of the dancers (as seen in this GIF). This project was particularly freeing as we were creating the graphics with the liberty of using any videos on the internet, since this was for a charity event. The interactivity with the dancers was a very challenging aspect of the production, but when we drove to Telluride to see the show for ourselves, it was clear that our efforts were not in vain. However, my favorite part of this project was not seeing our work realized on the big, LED screen but rather the camaraderie of our entire post production team working on one project together and sharing the excitement of all the cool ideas and visuals we could come up with.
Another collaborative project I loved working on was called 'Students of the Future' for a non-profit called Educause. Working closely with Andrew, Daniel and Jon, they helped expand my knowledge of design and storytelling as well as come up with some cool, futuristic tech that students of the future might eventually use. I was even able to include some 3D elements and challenge myself with building a virtual, virtual reality education system of the future. Not to brag, but that video won Best Educational Online Video from the Internet Advertising Competition.
My favorite projects have been the ones where we have ultimate creative freedom and the support of enthusiastic people. We have been doing spoof videos for Webroot for the last 3 years for their internal sales conferences. First we did Top Gun, then the Fast and the Furious, and this year we did a spoof on Mission Impossible. The project ended up being 4 episodes long. These episodes were super goofy, which made them fun to work on because no one took it too seriously. Still, to make it feel like the movies we were trying to spoof, it required some determination and focus throughout production and post production to get the best result. Most of what we shot for that project was on green screen, so there was a lot of compositing to do and even some dreaded rotoscoping! But we were all in it together, laughing at the ridiculousness of the projects and having a good time. The end result are 4 videos that you can tell were fun to make – and that, to me, makes all the difference.
I've also enjoyed projects that push me out of my comfort zone. When we landed Crocs as a client, I was immediately intrigued to work on a project that had a more recognizable name, solid budget and sleek concept. I was tasked with creating 12, fully realized 3D storyboards under our Creative Director, Ryan Craig's, direction. Even though I had used 3D for clients in the past, its use was minimal and I had never attempted to create something this professional. Despite that, I was determined to make this Crocs shoe look sexy. Long hours, many suggestions and some good collaboration helped me to bring these storyboards to a professional pinnacle. I was proud when we sent them to the client and pumped to hear that they were excited to move forward with our idea. Click the picture on the left for one of the videos we created.

I haven't even talked about all the projects we do for ourselves – like the OFU party invite, the Thanksgiving turkey stop motion animation, or Basement Production productions', 'HQ Master'.

All these projects and more have been so much fun to work on, that it makes leaving so difficult. These 3 years at One Floor Up have been perfect and beautiful in equal measure, and I'll truly miss seeing this wonderful group of people every day. I look forward to this next chapter of life and can't wait to freelance with One Floor Up in the future!