The whole team at One Floor Up would like to congratulate this year's winners of the Spotlight on YouthBiz Stars Business Competition. Each year the Young Americans Center for Financial Education (YAC) scours the state of Colorado for the best youth-owned businesses. These young entrepreneurs, ages 6 to 21, complete a competitive application, and then a panel of judges selects a winner and two finalists for each age category. Winners receive a cash prize of $1,000, and finalists receive $250. Winners are also paired with a leading business owner from the Colorado community.
For the fifth year running, One Floor Up has collaborated with YAC to produce video announcements for the winners. Check out what these amazing, young-entrepreneurs are doing.
6-11 Age Category
Winner: Liam Lennon, The Lucky Penny
Liam started The Lucky Penny as part of the Young Americans Center for Financial Education's YouthBiz program for entrepreneurs.  He wanted to create a product that was unique and affordable, offered something meaningful to customers, and wasn't expensive to start.  He loves working with his hands, so making items with pennies was a perfect combination.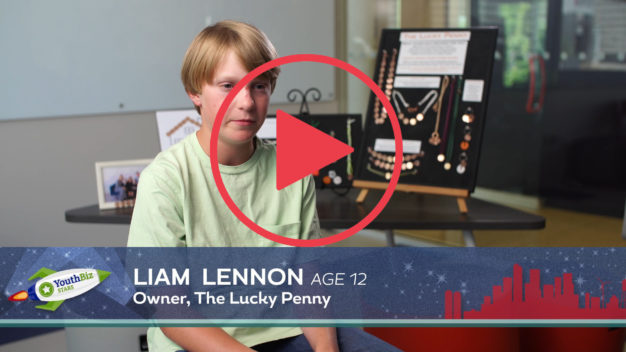 12-15 Age Category
Winner: Emily Rudnick, Rudspice
RUDSPICE was born from Emily's vision of making bland food spicier for her family. Shee spent a few years working on the right mix of spices. The goal was to bring out a robust flavor, big when it needs to be, and subtle enough to taste what is being cooked. Word spread and soon she made batches for friends and family members for the holidays and special occasions. The feedback has been incredible. After hundreds of bottles, she never thought it would attain the cult following it has.
16-21 Age Category
Winner: Brenden Coney, Elevation Creations
As a young child, Brenden "helped" his dad in his workshop. It was here where his interest and love of woodworking began. Over the years, he has honed his skills while working alongside his father. He enjoys working with a variety of woods and likes how every wood is different. In his spare time, he enjoys playing basketball, skiing, hiking and camping. He is also active in the Boy Scouts and his church youth group. He hopes to one day become a civil engineer.