We recently wrapped on a stop motion project for Central Asia Institute and it's definitely one of the coolest productions I've had the chance to work on so far.
Central Asia Institute (CAI) is a non-profit out of Bozeman, MT that promotes education and livelihood skills for girls in remote regions of Afghanistan, Pakistan, and Tajikistan. Each year, we are tasked with creating video content to support their three annual fundraising campaigns. This fall, CAI sent photojournalist Sa'adia Khan to some of the most remote regions of Northern Pakistan to document CAI's current projects.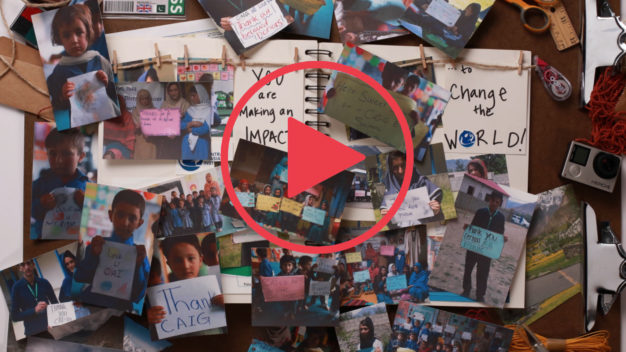 For this fall's fundraising video we were handed 347.48 GB of photos and videos from Sa'adia and assigned to create a piece of media that would educate current donors on where their money is being spent and encourage other prospective donors to contribute. 
What made this project especially fun was the amount of creative control I was able to have. We didn't have a creative director on the project (sorry, Ryan), so it was up to Jon and I to conceptualize. As a lover of all crafty things, the idea to create some kind of journal or scrapbook seemed to make the most sense (and be the most fun!). When Jon suggested not just a travel journal, but a stop motion travel journal, it was a unanimous decision – let's do it! Maybe we have a future in creative directing (kidding, Ryan).
Coming up with the idea was only the beginning. This project literally took a village.
Working with the photojournalist and our client, I busied myself organizing and laying out all the CAI project names, locations, and stats that we planned to feature in the book. And with the help of our writer, Jeff, the story of Sa'adia's journey began to take shape.
Once we had the script in place, Jana, Andrew, Jon and myself worked on the design and execution of each page, sketching and creating layouts and animatics, to assure we had a plan in place for how the book would take shape and move. Then we brought on the fabulous Tonya Peters to actually create the journal – down to every embellishment on each page. She and Jana had two days to put together one amazing travelogue.
On shoot day, Mike Anderson and his crew built a black box and fired up the stop motion software, Dragonframe (could it have a cooler name?). And just like that we were ready to roll!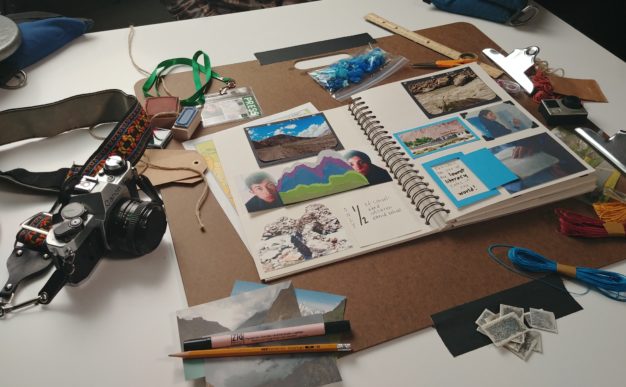 For those unfamiliar with stop motion, it's accomplished by snapping a series of photographs where you move something in the frame each time. We chose to shoot in 12fps, meaning we needed to take 12 photographs in order to make 1 second of footage. So over the course of a day and half, we squatted, we kneeled, we tried not to bump anything, and we moved elements on each page, bit by bit.
After the shoot, Andrew took all the photographs and stitched the pieces together – adding his own touch to the video with 3D camera moves. Just about everything you see in the final video was done practically, except for the embedded videos, obviously. Our goal was to create something authentic, just like the photos and videos of the people and landscapes Sa'adia captured in Northern Pakistan.
I certainly learned a lot about stop motion from this project, we all did. Like just how many people it takes to pull the production together and how important a controlled set is in preventing lighting changes. Though we had a couple hiccups during the process, we came away with a beautiful, moving piece that we and the client loved.
And that leaves me with one final thought. When's the next one?