One Floor Up has a long track-record with clients in the aviation space.
Over the years we've worked on corporate training events and training videos for Jeppesen, explainer videos for drone start-ups in a variety of industries, as well as social and brand videos for Boeing.
The number of details that One Floor Up producers coordinate on a regular basis is truly mind-boggling. Add to that the in-depth technical knowledge and aeronautical details that a shoot focused on aviation requires, and it takes production to a whole new level.  
These projects can present unique challenges when it comes to weather and safety, capturing plane-to-plane (or drone-to-drone) footage, and communicating with military-like precision. 
Spotlight on
One Floor Up Senior Producer, Jessica Flueck:
Recently, One Floor Up shot an in-depth training video in the small town of Marianna, Florida. It involved an emergency medical scene re-enactment, multiple helicopter landings, real life emergency crews, and a state park full of people.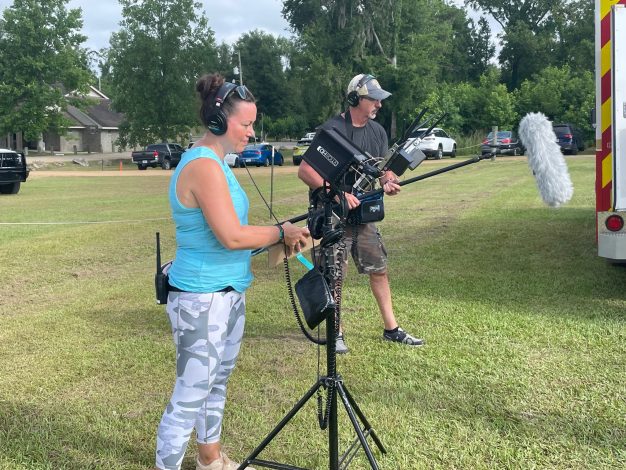 OFU: What can you tell us about this project?
Jessica Flueck:
Months of preparation go into a shoot like this. With so many logistics in constant motion, I spoke with the client on a weekly basis to make sure we had everything in place. The day of the shoot, we were coordinating with two on-call helicopters, multiple fire trucks, and real-life first responders who played various roles from medical staff to pilots. 
OFU: Given that there was a chance for real-life interruptions, did everything go as planned? 
Jessica Flueck:
The script involved a helicopter grounded for maintenance which meant a second helicopter had to land in the same place. This alone was a logistical hurdle, to find a spot big enough for this scene.
As it happened, the first helicopter actually did get called away to a traffic accident. So, we pivoted, and I made the decision to shoot at a different angle and out of order to make it work.
The other huge factor was the weather. There was a storm coming in that we were trying to avoid, so we were constantly watching the radar. One of the choppers was on a ground delay, but we made up time by reordering the shot list.  
OFU: So, what did you do?
Jessica Flueck:
We shot the landing scene so that I had enough room in my frame for one of our editors, Alex, to overlay two shots and make it appear that both helicopters were on the ground at the same time.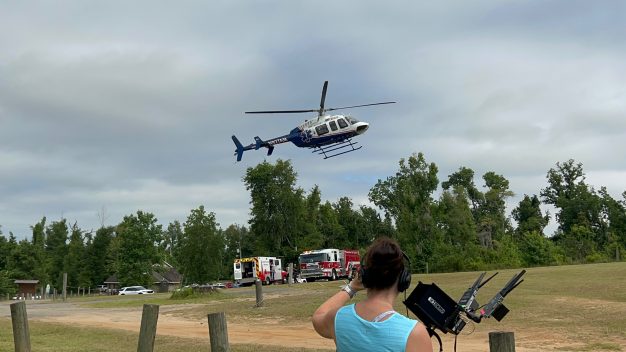 OFU: Any other high points?
Jessica Flueck:
This shoot was a great because there was a real story to tell. Even though it was based on a very technical medical event, we could have some creativity with the story. 
There was a simulator of an infant that was hooked up to equipment so that it would move, breathe and open its eyes. The script was very technical and we had to make sure we got every single detail of the patient's recovery.
The reactions from the people playing roles were very real, which made for a great shoot too. We even added in some drama to build the story and make for a great ending! 
Shooting with helicopters with big logistical moves and landings is always fun. Everyone has to be focused when we only have one chance to get the shot. It helps to work with an awesome crew that I trust. 
The location was in the middle of a state park, in deep, swampy Florida. We were right next to a natural lagoon, so bugs and humidity also played a part. But at the end of the day, we created a great story and made a great video.